Keep Austin weird — it's a thing. And evidently, it applies to dating too, because SERIOUSLY, WHAT IS WRONG WITH ALL YOU PEOPLE?! Kidding! Kidding. But also, kind of not, because whether you're falling in love on a field during a festival or just hooking up with that babe you met on Bumble, when it comes to dating in the ATX, things can get strange. And here's why…
Dates happen half-naked
Date destinations like Barton Springs and the Greenbelt mean hairy backs, tramp stamps, weird moles, and any number of other odd physical attributes make their debut early on. In other words, being shallow has never been so easy. Or at least efficient.
You have to hear a lot of mediocre music
Because everyone you date is in a mediocre band. Hope you're not busy every Tuesday at 10:47 because THIS IS THEIR PASSION AND YOU HAVE TO SUPPORT THEM.
And you have to pretend to be interested in a lot of mediocre app ideas
Everyone's looking for love… but mostly just someone to fund their Kickstarter.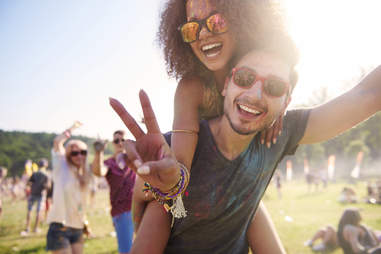 SHUTTERSTOCK
Festival relationships are a thing
ACL affairs, Fun Fun Fun flings, SXSW whirlwind romances… every fest offers the chance to find the (temporary) love of your life. After all, nothing sets the mood like Skrillex and OMG YOU SHARED A FALAFEL <3.
You can have a long-distance relationship in the same city
If it requires getting on I-35, it's probably not going to work. And Round Rock? Might as well be Canada.
Dates don't start before 9pm… or sometimes 10
On second thought, just pencil that meal in for midnight.
SHUTTERSTOCK
It's less about who you like and more about who your dog likes
Fido's allowed at basically every bar. He also happens to have considerably less crappy taste than you do.
There are custody battles over bars
Call dibs on your favorite spots early in the relationship to avoid awkwardness, or a few breakups later, the only place you can drink safely is at the worst Dirty Sixth has to offer. People can be replaced… good cocktails can't.
Everyone is on multiple dating apps
Tinder. OkCupid. Bumble. Hinge. Happn. That thing with the coffee and the bagels… You've matched with Britney H. like 12 times. And you have carpal tunnel syndrome.
You can do the classic "dinner and a movie" all in one place
Thank youuuu, Alamo Drafthouse
You can do a date for under 10 bucks
Rent (and everything else) is going up, but there's always a spot serving dollar beers somewhere. Lone Star keeps love cost effective.
Every Internet date starts or ends here: a bar close to home, open late, and convenient for both bailing and banging. The bartender knows your name. He doesn't bother learning your dates'.
Kickball will get you laid
Social sports leagues are incredibly incestuous, and you could make an incredibly complex diagram mapping out how the pitcher from I'd Kick That has hooked up with Ballsagna's entire infield. Maybe it's the adrenaline… but it's probably just the post-game flip cup.
Whole Foods is a legitimate place to hit on people
Yes, you will pay $17 for a salad, because it comes with a side of dates.
Everyone is 4/20 friendly
And your dealer actually moonlights as a matchmaker. Win-win.
Romantic getaways consist of the San Antonio River Walk
Get ready, because there are a lot of margaritas and Embassy Suites overnighters in your future. Maybe some SeaWorld, too. You're gonna remember the Alamo so hard.
You deal with a lot of dietary preferences
Hope you've got a vegan, gluten-free, kosher spot on lock. And if that lettuce didn't come from a local farm, you're sooo not getting laid.*
*Or, yeah, you're just eating barbecue. There is no middle ground.
Nine out of 10 anniversary dinners are at Uchi
Tyson Cole is literally the only thing keeping relationships alive.
You don't just date someone — you date their hobbies
Good luck fitting that date in around homeboy's woodworking schedule.
This is Never-Never Land. And no one grows up
Why would you want to settle down? You're 46 and single and unemployed. You're in your prime. YOU'RE LIVING THE DREAM.
No one makes definite plans
"We should TOTALLY try that restaurant…"
"We HAVE to go see that band…"
"WHEN you meet my friends…"
… Ya know, um… at some point.
Sign up here for our daily Austin email and be the first to get all the food/drink/fun in town.
Sam Sumpter is an Austin writer who is thinking of taking up kickball. Follow her on Twitter at @Its_Sam_babaaay.
original article found here:
https://www.thrillist.com/eat/nation/the-newbie-guide-to-6-holiday-roasts